Because of YOU…There is HOPE
Our SVdP officers for 2017:
1) President,  Kathy McDonough
2) Vice President,  Elaine Roberts
3)Treasurer,  Patti Merz
4) Conference Secretary,  Diane Pettit
11th Annual Turkeyfoot Trot 5k Run/Walk 
is 9 days away!
This year's Turkeyfoot Trot 5k is being held at
Thomas More University
Saturday, November 17th beginning at 9am.
Please join us!
The weather forecast is sunny and 50 degrees.
 It should be a beautiful and fun day!
We are trying to accomplish our goal of 500 participants in this years event so please help us get the word out!
Race day registration will start at 7:30 a.m. in Steigerwald Hall – TMU's Saint Center. Race Day registration fees are $30 for adults and $25 for children 14 years or younger.  T-shirts are sold separately for $10 each while supplies last.
If you would like to volunteer,
Registering online for the race is as simple as clicking on the link below! 
Please share with your neighbors, family and friends.  
See how the Turkey is getting ready for the race – 
We can do this with YOUR help!  
Visit the Northern Kentucky Website…
Our Saint Vincent De Paul Society (SVdP) was started in 2004.  It has grown over time and has added a food pantry which services clients throughout Grant County.  Currently the conference meets every second Wednesday of the month at 7pm in Leveaque Hall.
The mission of SVdP are threefold.  First is the development of spirituality for the SVdP members.  Second is care for those in need through charity and justice.  Third is the development of christian community and friendship for the members.
St. Vincent de Paul Needs Your Help!
    Our food pantry struggles to keep peanut butter, jelly and crackers on the shelves. This high protein convenience food needs no refrigeration or cooking, making it easy for families. Most kids love it, so it's also a staple for low-income families. However, it is one of the more expensive foods to donate, and so contributions never keep up with demand. If each parishioner or family donated one jar of peanut butter, one jar of jelly and one box of crackers, what a difference we could make! Please leave your gifts on the table in the gathering area.  
Your generosity is appreciated. Thanks. "For I was hungry, and you gave me food." Matthew 23:35
Frederic's E-Gazette
An e-newsletter from the National Council of the U.S. Society of St. Vincent de Paul®
June 14, 2018

Table of Contents:
To go directly to a certain article, simply click on the title
What's New in this Issue
Disclaimer:
(NOTE:  The links in some of the articles are intended to take you to websites for a specific story, page, function or program approved for your use by the Society of St. Vincent de Paul.  The Society does not accept responsibility for, or grant approval of, peripheral advertising or stories that may reside on those websites.)   

Dear Vincentian Friends,
Frederic Ozanam envisioned a network of charity that would surround the whole world. Three young women from the United States are experiencing the reality of that network this week. They are in Salamanca, Spain, to represent the United States at a worldwide gathering of over 150 young Vincentians. Many of our international leaders, including our current Council General International President, Renato Lima de Oliveira, attended the last such meeting of Vincentian youth ten years ago. Please pray for the success of this meeting and for these dedicated young people, because they will provide the next generation of leadership for our Society.
How are you connected to this network that Frederic inspired? Vincentians who do not venture past their Conferences or Councils are missing the opportunity to experience the richness of our Society of friends. If our horizon only extends to the boundaries of our Society in the parish or diocese, we have not created a network of charity but instead have just a patchwork of similar charitable organizations.
It is often difficult to look beyond those boundaries because we can be overwhelmed by local demands. There can be too many people to help, without enough money, members or leaders to meet the need. This is exactly why I suggest participating in the many gatherings of our Society. They can renew you spiritually to meet the challenges we encounter. At these meetings you will find friends who have common experiences, and you will enjoy the opportunity to exchange best practices. I always return from meetings of Vincentians with a few good ideas for my own Council or Conference.
Ralph Middlecamp
National Council President
---

Your 2017 Annual Reports – Deadline Extended!
Attention SVdP Leader:
The National Council's online reporting system for 2017 annual reports closed as scheduled on 
April 1
. However, we are re-opening the system temporarily 
until 

midnight

on Monday, June 18. NO FURTHER EXTENSION PROVIDED!
We need to extend the deadline for those Councils & Conferences whose 2017 annual reports have not been completed yet so that the Society's activities can be shared with bishops and others at this year's National Congress of Deacons 50th anniversary of the diaconate as a permanent ordained ministry of the Catholic Church!
Please complete your reports online TODAY! 
The login is the same one you use to login to the National Membership Database. 
______________________________________________________
Hard copy 2018 forms are NOW available! 
The 2018 annual reports will not be available for online data entry until after 

September 30, 2018

.
For questions, contact:
Pam Hudson
National Director of Governance and Membership Services
314-576-3993 ext. 214
---

Individual Stories from First 5 Episodes of OFIA now available Online!
Are there stories that you enjoyed from the first five episodes of OFIA? Well now they are available for Councils/Conferences to view and download online!
To view the segments on the Society's YouTube page, 
click here
.
To view and download the segments on the Society's Vimeo page, 
click here
.
______________________________________________________
OFIA Episodes 1-5 are also available for online viewing and download!
OFIA Episodes 1-5 have now fulfilled the exclusivity agreement we have with EWTN.
These episodes are now available for Councils/Conferences to use in their outreach efforts. Once Episodes 6-10 re-air later this year, they also will be available for Society use.
To view the episodes on the Society's YouTube page, 
click here
.
To view or download the episodes on the Society's Vimeo page, 
click here
.
---
"Our Faith in Action: 
Today's Society of St. Vincent de Paul"
*The following are the next two episodes scheduled to air as of press time. For the most up-to-date programming schedule, 
click here
 to view the schedule on EWTN's website.
(

6:00 p.m.

 Eastern, Saturday, June 16)
Episode 2: Fixing Teeth and Lives
Come along with Society of St. Vincent de Paul members on their spiritual growth journey through service to people in need. In this week's episode, join Vincentians helping fix teeth and lives in a free dental clinic, visiting the home of a family in need and giving a helping hand to the homeless and unemployed in a city shelter.
(Detroit, Des Moines, Baltimore)
(

6:30 a.m.

 Eastern, Sunday, June 17)
Episode 3: Spiritual Growth in Word and Deed
Join Vincentians making a home visit with a family in need, deepening their spirituality and friendship during a Society Conference meeting and working the land to grow fresh produce to help feed the hungry. See our Catholic faith in action through the good works of SVdP's volunteers.
(Pittsburgh, Madison, Rhode Island)
Advertise the EWTN series in your Parish!
Bulletin Announcements
Click here
 to view the bulletin announcements to send for inclusion in your bulletin about the latest "Our Faith in Action: Today's Society of St. Vincent de Paul" episode.
Click here to find the EWTN station in your zip code. 
There are customizable materials for Councils and Conferences to use to promote the series in their area – see the box below.
 Click here

 for customizable materials that can be personalized to your Council / Conference and used to promote the show to your area!

 Click here

 for more information about the series, including episode descriptions, and to meet the show hosts!
EWTN has created a 30-second promotional spot for our TV series. 
Click here
 to watch and download.
*This clip can be shared on your social media or website.
---

Q: When I first joined, we were told the secret collection is a sacrificial donation based on need in self-denial; should be cash & because of the reason it is done, should not be tax deductible. However, recently I've been told they can deduct this on their IRS form & pay by check. I know nobody can be forced to do anything, but it sounds counter-productive as part of the Society's tone to do this. I don't know what to say to them at this point. We need more clarification … I know donations are tax deductible, but ???
A: First of all, all donations to the Society are tax deductible – sacrificial or not. There is nothing in the Rule or the Manual that specifies that secret collection donations have to be cash. Checks should work just as well, except that they are not anonymous gifts. When the Society was first founded, the secret collection was the basic funding for the Conference. Today, it is more of a symbolic gift (although still intended to be a sacrificial offering) and many Conferences use it for various purposes other than putting it in the general fund for Conference aid.
Q: Our vice president has resigned from the board, and our board president is considering asking the lady that the cardinal named as the archdiocesan representative to the board to take the position of vice president. She has only just joined the board, but seems enthusiastic and would bring many gifts to the executive committee. Are there any restrictions to be aware of in making this decision?
A: Only active (full) members of the Society may be an officer at any level in the Society. If she does not qualify as an active (full) member of the Society, then she cannot be an officer. Also, as this is an independent lay organization, will it look like the cardinal is exerting control over the Society? Perception has a great deal of influence on people.
Submit your questions to: 
Pam Hudson
National Director of Governance & Membership Services
---

2018 National Assembly
"One Society Serving in Hope"
Host City Event – SeaWorld San Diego
The SVdP National Assembly is a great time for Vincentians from across the country to come together to ignite their Vincentian spirituality with fellow members.
At each National Assembly, attendees have the opportunity to attend a special "host city event." It is a unique opportunity to attend an event at a location that exemplifies the best of the city that is hosting the meeting.
This year, the host city event will be held at San Diego's SeaWorld and hosted by the SVdP Western Region.
Spread across 190 acres on beautiful Mission Bay Park, SeaWorld is known for its amazing animals, interactive attractions, aquariums, rides, beautiful landscaping and education programs for all ages.
The event will be held on the evening of Friday, August 31 in the Nautilus Pavilion, a private area of SeaWorld. The Nautilus Pavilion, located adjacent to Mission Bay, is a glass-enclosed structure that provides a unique setting for your dining and dancing experience. The menu includes Black Angus Tri-Tip, Penne Bolognese and Marinara, fish tacos and a cheesecake bar for dessert. "Cash only" bars will be available.
In this area is the Penguin Encounter where you can spend time with some of the park's coolest characters. In the Wild Arctic Encounter, get up close and personal to walruses and beluga whales on your journey through the wild Arctic. Polar bears may also be present in this encounter.
Cost for the event is $25 per guest, with a limit of 650 people, so be sure to get your registration in!
_____________________________________________________________
Early Registration Deadline of 

June 29

 approaching!
The early registration deadline for the 
2018 National Assembly in San Diego, 

August 29 – September 1

 is 

June 29
. Do not miss out on your chance to be a part of this annual gathering of Vincentian brothers and sisters. 
Click here
 to register now.
Questions? Contact:
Michele Schurk
Events Coordinator
314-576-3993 ext. 223

SVdP International Youth Video Conference
June 16, 2018
Youth and Vincentians around the world are invited to participate in an International Video Conference that will take place during the 2nd Annual Meeting of the Youth of SVdP in Salamanca, Spain.
When: Saturday, June 16 at 11:00 a.m. Eastern

Congratulations on the 50th Anniversary of the Restoration of the Permanent Diaconate in the United States!
July 22 – 26, 2018

 at the Marriott New Orleans
Thank you to our 340 Deacons serving in SVdP! We celebrate with you and will be joining you in New Orleans to venerate this milestone! Look for us at the SVdP exhibit table area!
If you are attending the celebration, let us know! Sharing your Vincentian stories and experiences at the gathering will be a great opportunity to show Church leaders how SVdP serves as a beacon of light to Christ yesterday, today and forever!
Email your name and diocese to:
Pam Hudson
National Director of Governance & Membership Services
(314)576-3993 ext. 214
____________________________________________________________
Attention Councils: Help Us identify Vincentians attending V Encuentro!
SVdP Vincentian sisters and brothers, are you attending the V Encuentro national event 
September 20-23
 at the Gaylord Texan Resort and Convention Center in Grapevine, Texas?
If so, let us know! Email us your name, SVdP Conference and Diocese. As members of SVdP, we need your help in sharing with those in attendance how SVdP can support V Encuentro as missionary disciples and witnesses of God's love.
We hope to hear from you soon!
Email your V Encuentro attendance information to:
Pam Hudson
National Director of Governance & Membership Services
---

Vincentian Formation
New SVdP Mission Statement in Publications
At the Midyear Meeting on April 14, 2018, the National Council of the Society of St. Vincent de Paul in the United States approved the following mission statement:
Our Mission Statement
A network of friends, inspired by Gospel values, growing in holiness and building a more just world through personal relationships with and service to people in need.
Corrections:
Please note that the mission statement in the following publications is now known as: "Our Identity Statement"
The Manual: p. 50-51
Serving in Hope Module I: p. 17 and p. 37
Vincentian Celebrations: p. 17, 21, 31, 37, 43, 49, 85, 127, 237
_______________________________________________________
New Vincentian Spiritual Formation Resource
Serving in Hope: Moodule VII
Our Vincentian Home Visit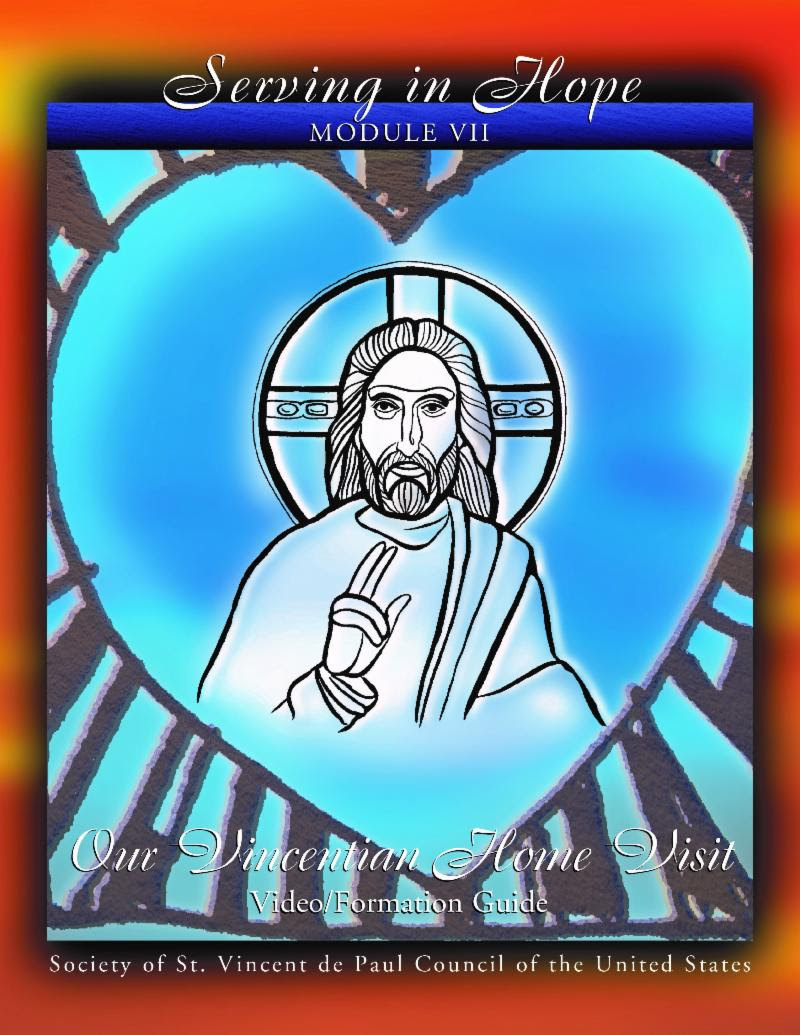 In 2017, we commemorated the 400th anniversary of the Vincentian Charism and found the home visit rooted in our heritage. Now, as we carry the grace of our Vincentian vocation into a new century, all Conferences in the United States are invited and encouraged to pray, reflect and share on Module VII: Our Vincentian Home Visit.
"The president of the Conference or Council will have special responsibility for promoting Vincentian spirituality." (Rule 3.11)
Formation Guide: Catalog #1070 @ $2.50 each (one for each member)
DVD: Catalog #1072 @ $10.00 each (one for each Conference)