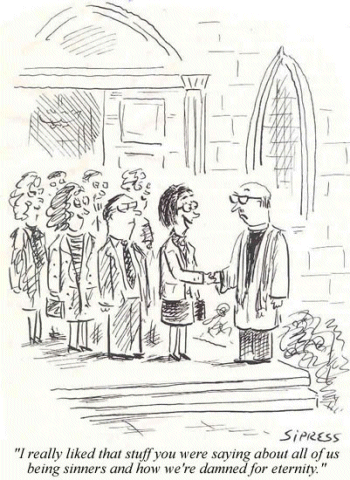 The church was badly in need of a coat of paint. So the pastor decided he'd do the job himself. But all he had was one bucket of paint. So he got a bunch of buckets and some water, and he thinned the paint enough to cover the entire church. Then he spent all day painting. That night it rained—very hard—and washed all the paint off. The pastor was quite discouraged and asked God, 'Why…why God, did you let it rain and wash off all my hard work?'

      To which God thundered his reply, 'Repaint! Repaint! And thin no more!'
A new pastor was visiting in the homes of his parishioners. At one house it seemed obvious that someone was at home, but no answer came to his repeated knocks at the door.

      Therefore, he took out a business card and wrote 'Revelation 3:20' on the back of it and stuck it in the door.
      When the offering was processed the following Sunday, he found that his card had been returned. Added to it was this cryptic message, 'Genesis 3:10.'
      Reaching for his Bible to check out the citation, he broke up in gales of laughter. Revelation 3:20 begins 'Behold, I stand at the door and knock.' Genesis 3:10 reads, 'I heard your voice in the garden and I was afraid for I was naked.'
    A teacher was testing the children in her Sunday school class to see if they understood the concept of getting to heaven.

      She asked them, "If I sold my house and my car, had a big garage sale and gave all my money to the church, would that get me into Heaven?"
      "NO!" the children answered.
      "If I cleaned the church every day, mowed the yard, and kept everything neat and tidy, would that get me into Heaven?"
      Again, the answer was, "NO!"
      Now she was smiling. Hey, they're getting it, she thought! "Well, then, if I was kind to animals and gave candy to all the children, and loved my husband, would that get me into Heaven?" she asked.
      Again, they all answered, "NO!"
      She was just bursting with pride for them. "Well," she continued, "then how can I get into Heaven?"
      A five-year-old boy shouted out, "YOU GOTTA BE DEAD."
Atheist: "Do you honestly believe that Jonah spent three days and three nights in the belly of a huge fish?"

Preacher: "I don't know, sir, but when I get to heaven, I'll ask him."
Atheist: "But suppose he isn't in heaven?"
Preacher: "Then you ask him."