Come to Mass!  Something wonderful is going to happen.
Remember, you are not to prepare your defense beforehand,
for I myself shall give you a wisdom in speaking
that all your adversaries will be powerless to resist or refute.
Lk 21 : 14-15
Prayer to St. William
God our father, in Saint William, your bishop, you gave a light to your faithful people. You made him a pastor of the church to feed your sheep with his word and to teach them by his example. Help us by his prayers to keep the faith he taught and follow the way of life he showed us. Grant this through our Lord Jesus Christ, your Son, who lives and reigns with you and the Holy Spirit, one God, for ever and ever. Amen.
Anyone interested in using one of our halls? See, call, or e-mail  Fr. Hils.  You can reach him at 859-824-5381
Important! The Messenger- each family registered in the parish should be receiving The Messenger. If you have not been receiving it, please give your name to Carol Rector or Fr. Hils.
Do you know someone who might be interested in learning more about the Catholic faith?  Each year, we start our RCIA (Rite of Christian Initiation) classes for those interested in looking at the Catholic Church.  No obligation, just learn about the Faith. Have them call or see Father Hils.
I've been flocked by flamingos! How can I get rid of them? Call the Youth Group, They make them move for a very small donation!
Help our Youth Group on this fundraiser.  This helps support some of the wonderful activities the youth group gets to do together as they learn to serve and grow in the Catholic faith.
For a small donation, they might be persuaded to send them in a desired direction!
"Acts" is here!  A new Bible study will begin on September 5, 2019.  Come join us in Leveque hall as we learn about what the apostles did through the Bible in Acts.  You know, Bible study is much more than a bunch of people with their heads buried in it, trying to make sense of it.  We read a part, then watch a video with an expert to tell us what the meanings are, and then we discuss how it affects us and makes us feel.  Everyone is different, not two reactions are the same. What good fellowship it is!  Sign up in the gathering area, or let Suzi Noel know you're interested.  Thursdays 7:00 pm – 8:30 pm.
St. William Church and St. John Mission
Welcome to St. William Church and St. John Mission's Website. Here you can find out the latest that's going on at St. William Church and St. John Mission. We hope that God blesses you all and that you will decide to join us for church services sometime or even become part of our blessed family under the Lord Jesus Christ.
November is the Month to focus on The Holy Souls in Purgatory!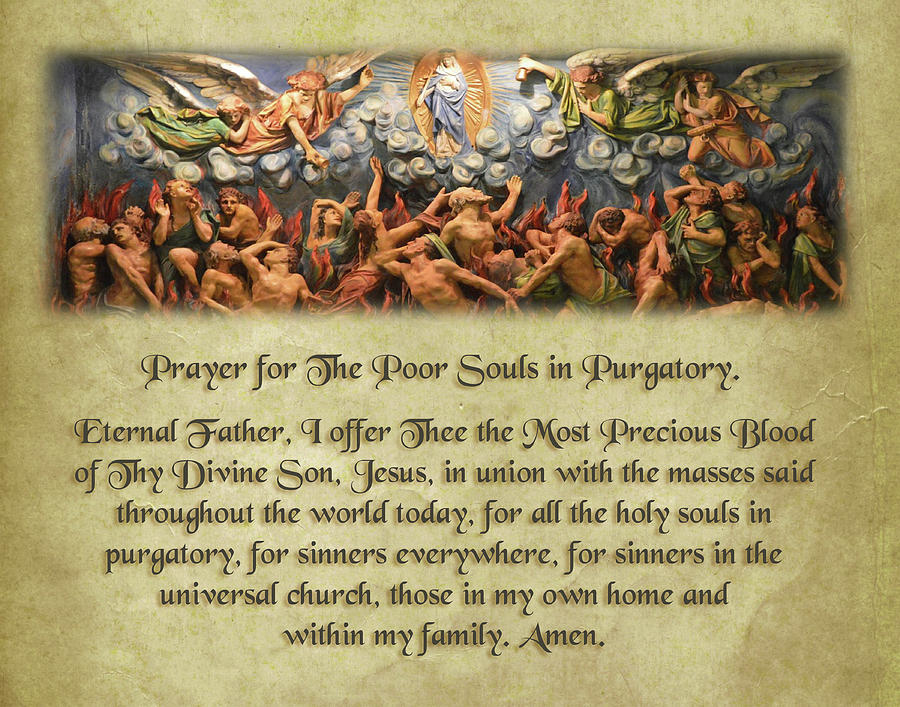 Saint Vincent dePaul Society
We have been very busy answering calls for help with utilities and food. In fact, we have been so busy that we are in need of more help. Beginning November 1, we will have a food drive for the pantry. On the table in the gathering area, you will find a list of suggested items that we use regularly. You do not have to stick to the list, all donations are accepted and appreciated. Here is a sampling of what were able to do thanks to the generosity of people. For the month of September, we received 35 calls for assistance and we helped 32 households. Twenty-five of them had minor children in the home. In October, we received 25 calls and helped 21 households. About $1100 went for utilities and $2700 for food. The calls are coming in for November too. We are also in need of people to come and join us. We are going to have a program, Called to Serve, the weekend of November 17 th . Dennis Coyne, who is the present Northern Council President, will speak at the end of the Masses this weekend. We will have a very short presentation and invite you to sign up if you might be interested. This is a chance for you to come and see if SVdP is for you. You are welcome to join us on a home visit or there is always pantry upkeep. We always work in pairs, so bring a spouse or friend with you.
If you have any questions or think you may be interested in joining us, call Kathy at 859 866 0430.
Do you want to have a good chuckle? Try " A Little Humor"
SVdP Corner
Please keep in mind, the annual "Turkey Trot in November.  It's coming!  If you identify yourself with the Saint William SVdP group, the monies go to our local conference for the benefit of those in our own area. More info to come. If you are interested in helping out at Saint Vincent dePaul, you can call Kathy at 859-866-0430.
We appreciate all of the prayer and support you give us.
Hey Kids (and adults who feel like kids)!  Check the link below to find your way to word puzzles, word searches, mazes, and much more!
Celebration of the Sacraments
Celebration of The Eucharist
At St. William's Church: Daily Mass: 8:30 am -Tuesday thru Friday
There is no Mass on Monday
 Adoration of the Blessed Sacrament Tue-Fri.  9:00 – 10:00 am (after 8:30 am Mass)
Weekend Mass:   Saturday at 4:30 pm & Sunday at 10:30 am
At St. John Mission:  8:00 am – Sunday
Clergy & Staff Rev. Damian Hils 859-824-5381;  pastor@saint-william.org
Coordinator of Religious Education Suzie Noel 859-760-1376;  snoel@saint-william.org
St. Vincent de Paul Society 859-341-3219, 10 am-3 pm M-F
Knights of Columbus 859-801-5338  David White
Prayer Line 859-824-4198 Roberta Poole
Bulletin  Peggy McWilliams 859-512-0060 
Penance: Confessions heard each Thursday of the month from 5:00 to 7:00 pm. They are also available before the Saturday Vigil Mass 4:00 to 4:20 pm. Confession is available anytime upon request.
Baptism, Confirmation, Holy Orders, and Anointing of the Sick : Please contact the Rectory.
Marriage: Please contact the Rectory at least six months in advance.
Missed something on the web? contact me Pat McDonough      pkmcd1989@gmail.com or call 859-866-4262
Are you wondering what's happening in the Pro-Life movement lately?  Check it out!
Hail Mary, full of grace, the Lord is with thee. Blessed art thou among women, and blessed is the fruit of thy womb Jesus.  Holy Mary, Mother of God, pray for us sinners, now and at the hour of our death. Amen.
"God does not love me because I am good. He loves me because He is good."  St. Thomas Aquinas